PRIVATE INSTRUCTION and RECORDING/PRODUCTION
Rates:
Half-hour $35
Hour $60
Booking and inquiries: 617-957-1600
TESTIMONIALS
Working with Barbara Kessler has been so easy. I wanted to try recording a song or two and through a friend's recommendation I reached out to Barbara. I was pretty nervous about the prospect of recording, but wanted to explore it anyway, as a learning experience. She put me at ease right away, because she has a steady, caring, and kind presence. In just a few visits with her, I am feeling empowered and inspired to explore my own creativity more. I trusted her right away, her feedback was helpful and her gentle encouragement felt authentic and genuine. For any one looking to grow and explore their musical craft more, with a kind, skillful and sincere teacher, I would recommend working with Barbara. Not only is she a great singer/songwriter and creativity conspirator, but she will also help you get more comfortable recording, one stop shopping!! Thank you Barbara!
Mare Tomaski, singer, songwriter, author
I recently had the pleasure of attending a networking meeting where Barbara Kessler of Barbara Kessler Music Studio provide the group with some tips and strategies for preparing for upcoming performances or presentations. Barbara is an accomplished singer and I assumed she would talk generally about how to sing in front of an audience. Instead – her talk focused on how to prepare for any kind of presentation, whether in a concert hall or a business gathering.
As someone who doesn't enjoy public speaking, I found her words resonated with me. I picked up valuable strategies on how to breathe correctly, stand firmly (feet planted), and relax in front of an audience. It was a splendid – and extremely helpful – presentation. I will never be a performer, but thanks to Barbara, I expect to be a better – more relaxed – public speaker.
Linda Hilliard, Hilliard Communications, Marlborough, MA
Barbara worked with me for several hours to prepare me for a vocal performance in local musical theater. She is an expert at both technique and encouragement. Although I went in with scant previous vocal training, I came away from my time with Barbara with some great and memorable warm-up exercises as well as approaches to the performance of specific pieces I was working on. Very satisfying results — greater stamina, volume, and control for my performances.
Jennifer Powell
I had the good fortune to work with Barbara, and I continue to be grateful for her coaching. She shares wisdom around connecting body and mind, and gets you really ready to perform (or speak in my case). Because her expertise is so different from mine, working with Barbara was a thoroughly enjoyable stretch for me. Because her lessons are so grounded and memorable, the results have been really positive, and I can give a wholehearted recommendation!
Catherine Flavin (McDonald), Managing Partner at Thrive Leadership
I was delighted to work with Barbara to produce my first meditative cd. Barbara's skill set is vast, and she not only directed me conscientiously through the recording process, but likewise added her talent with some original instrumental musical pieces throughout the cd. I would highly recommend Barbara for recording, musical/vocal skills, coaching and production.
Sandra Corcoran, Starwalker Visions, LLC: Consultant, Author/writer and Workshop Facilitator
Working with Barbara Kessler on "Run Boston Strong" was both enriching and eyeopening. We were able to experience an exhilarating and memorable recording session, as well as produce a top-notch recording through Barbara's innate sense of musicality, her grounded expertise, and her open-mindedness as engineer, arranger and vocal coach. I hold great respect for Barbara's work.
Amanda Maffei, singer-songwriter and pianist
Our daughter, Gracie, worked with Barbara for over a year in producing her CD of original songs and we all enjoyed a fabulous experience. What started out as a once-a-week, after-school activity turned into a fantastic CD. Barbara is so talented in songwriting and she translates this talent into wonderful advice for the budding songwriter. She is also a beautiful guitarist with a dreamy, amazing voice and anyone under her tutelage will greatly benefit from her advice in these areas as well. Our son also asked to do his Senior Project (high school month long project of one's choice) with Barbara after working with her on Gracie's project and once again, another wonderful CD and experience was had by all. Barbara has the patience of Job with a fun spirit that makes the process of songwriting, recording, mixing and mastering a terrific process that all levels of talent will enjoy.
Blair Van Brunt, Sherborn, MA
With her knowledge in the music industry and her experience in producing and mixing songs of her own, Barbara guided me through every step of the recording and mixing process always with a smile on her face. I admire Barbara's efficiency and ear for what sounds right as well as her patience. She also has an incredible intuition when it comes to making decisions about what to add into and take away from in a song. I am very proud of my album and I am so grateful for the time and effort Barbara put in with me by taking me under her wing. For any of you new songwriters who are serious about your work and who want to pursue songwriting as a career, I highly recommend Barbara.
Gracie Van Brunt, student
I am SO GRATEFUL Barbara! I was absolutely AMAZED at how little time it took you to quietly step back & take me in, pinpoint areas that needed adjusting, and then in the kindest, gentlest way assist me in making little changes in my singing that made ALL of the difference in the world when I was recording my CD. I was confident, I was strong, & I was singing!
Annie Wenz, singer-songwriter/touring artist
I've had the good fortune to have known and worked with Barbara over the past 20 years. She is one of my favorite songwriters of all time and has a voice that will draw you in and melt your heart. Whether on stage or in the studio, Barbara has the ability to create an environment that brings out the best in the musicians that support her. And now with the audio engineering skills she has added to her arsenal of tools, she is an artistic tour de force. She is a kind, generous and creative person, and I will always jump at the chance to work with her. You should too!
Jeff St. Pierre, musician/composer
It was less than three weeks before my daughter's wedding and I had written a song that I needed to sing myself for my daughter and have it finished and in place before the ceremony out of state. Barbara had been introduced to me over the summer and I kept her info after hearing her sing and seeing that she was a dedicated mother and musician- I decided to see if she could help me. To say she helped me is an understatement. Intuitively she knew exactly what I was looking for in my song and began to work magic both on her producing end of things as well as helping me find my own voice. She never made me feel like I couldn't do it- Instead she encouraged me TO do it and in doing so I found confidence in that. She taught me in a few short sessions some tips that would help a non-performing songwriter find and be comfortable in my own voice, Barbara put her own heart into the song as if it were as important to her as it were to me. Some songs hold special meaning and with Barbara's skill- talent and training- she made the whole experience as joyful as the occasion it was being created for.
Trish Lutke, songwriter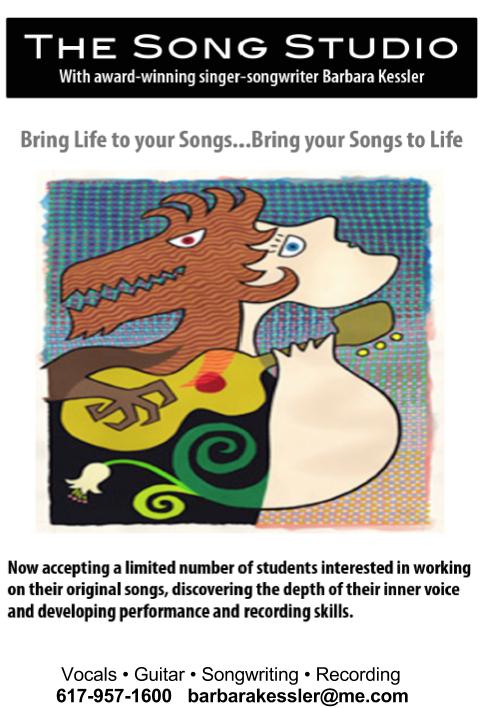 Those of you who have worked with me before know that I love encouraging artists in their OWN expression. Singing, playing, performing, writing and crafting original songs, and recording – I believe we all have something unique to express, and to share – if we don't sing our song, who will?
I now offer instruction, coaching, and recording & production services from my home studio for clients of all ages. Please contact me at bk
[at]barbarakessler[dot]com or 617-957-1600 for information, availability, and rates.
TV/FILM CREDITS
Songs featured on the following television shows and movies among others:
The Voice
NCIS
All My Children
One Life To Live
Ed
Jag
Young and the Restless
MTV's True Life, Undressed
Life Without Dick
Felicity
Passions
Miss Match
Harper's Island
Hunter
PRODUCTIONS – Since taking time off from touring with the arrival of my kids, I have been involved in these "side projects:"
• End Credit Theme Song, Rogue Galaxy, SONY Playstation
• Soundtrack, educational documentary Breaking Free, Children's Hospital Boston
• Score, Is He Real or Not?, independent short film
STUDENTS http://www.myspace.com/gracievanbrunt
Produced songwriter Gracie Van Brunt's first batch of songs for her debut EP