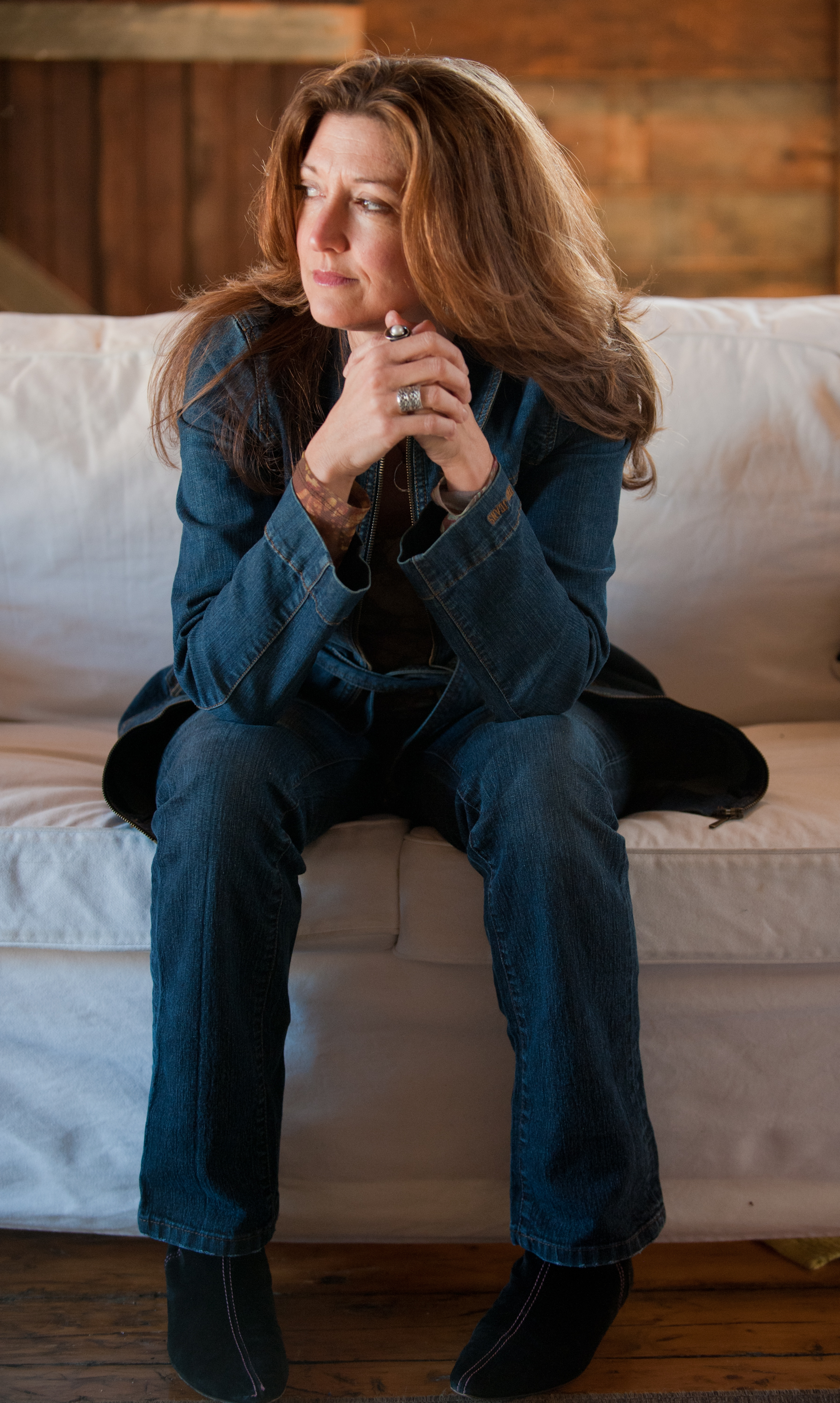 Barbara Kessler feels most alive when she's on stage performing in front of an audience. "Music has always been the single most powerful way for me to express myself," she says. Her honest, engaging lyrics reflect the human condition, the universal experiences people share but have been socialized not to reveal. "I want my audience to feel like we're having an intimate conversation in a living room," she says. "An opportunity to connect in a seamless, heartfelt way."
Yet it's her demeanor on stage that really pulls people in – a combination of playful spontaneity and focused attention to the audience. "A gig for me is a night out for someone; they showed up for the music, and I need to show up for them." Barbara owns the stage with a "dash of insecurity and a big glob of charisma" as someone recently put it.
Barbara entered the professional music scene several years after graduating from Cornell University, quickly moving from opening act to the main stage. Her debut CD Stranger To This Land won a Boston Music Award for best new folk/acoustic album. She has won awards from folk festivals including Kerrville, Telluride, and Rocky Mountain folks, has received national airplay as well as been featured on Sirius/XM and Mountain Stage, and her songs continue to be placed on TV shows like NCIS, JAG, Passions, One Life to Live, The Young and The Restless, All My Children, Ed, Felicity, and MTV. "Dreaming My Way Home," the end credit theme song she co-wrote and produced for the SONY PlayStation game, Rogue Galaxy has introduced Barbara to an international audience of all ages.
Famed drummer Jerry Marotta saw her perform at CB's Gallery in New York and offered to produce her second album, Notion. A review of the CD by The Boston Phoenix said, "It's not the hooks, the Froom-like production, or even the songs that make this album one of the best by any contemporary songwriter in years. What puts her over the top is her voice. A smoothly subtle and sometimes jazzy, versatile soprano full of surprises."
Putumayo seconded that opinion by choosing the album's haunting title track, "Notion," for inclusion in its classic 1996 complication, Women's Work, a theme that weaves its way through all of Barbara's CDs. "I wrote 'Mary Tyler Moore' (Stranger To This Land) because she was a role model for me. She wasn't a character's wife or secretary. The show was about her trying to live an honest life as a single woman in the 1970s," she said. "Women's life choices seem more complicated in a lot of ways."
Barbara made her own difficult choice in 2000.
After sharing the stage for nearly a decade and a half with artists including the Indigo Girls, David Wilcox, Shawn Colvin, Arlo Guthrie, Dar Williams, Richie Havens, Christine Lavin, Livingston Taylor and many others, Barbara decided to stop touring with the impending birth of her second daughter, Elaina. "I became a stay-at-home singer/songwriter so I could be present for my two daughters," she says. "Trying to be a Super Mom-Singer made it hard to do either job well." The post-touring years included a self-awakening that Barbara credits for moving her singing and songwriting in a new, deeper direction. She also ventured into improv and musical theatre, even appearing as a double in the movie, The Ghosts of Girlfriends Past.
Barbara's especially proud of a "mix-tape" benefit CD for moms she compiled and produced called Hope: Mothers Helping Mothers. "Gathering the music of other singer-songwriter mothers such as Lori McKenna, Eliza Gilkyson and Rachel Bissex helped me navigate the joys but also challenges of becoming a mom." Currently she's also coaching young artists on performance and songwriting, as well as producing their CDs in the studio she and her husband built in their antique-barn.
Now that her daughters are settling into their own lives, she's eager to return to the live performances and audience interactions that she loves. Her upcoming CD, tentatively titled "You Give it Away," is born of these years at home, joyful and ordinary, and the songs testify to this simplicity.
For Kessler, the time away from the stage has offered renewal in the deepest sense. "The past couple of years I've volunteered with my local theater group to host their open mic. Quite simply, it's reminded me of the power and immediacy of a voice, an instrument, and a song – and the  human urge to be heard. And to listen. People do need songs."
PRAISE
Stranger To This Land
Stranger To This Land captures the bewitching charm of a Kessler stage performance, yet has all the finesse and dynamics of a well-produced studio album. Her finely crafted songs of love and troubled friends are some of the best I've heard this year. Muse News, Des Moines, IA
Songs like "Kathy" showcase Kessler's flair for poignant detail and understatement, qualities that lend her tales of ordinary folds their extraordinary emotional weight. Vin Scelsa, WNEW-NY
Notion
Barbara Kessler is a lyricist of uncommon economy and grace. Dirty Linen.
Kessler's words and music are tough enough to hold their own in the pumped-up soundscape. [She] makes her listener connect with sharply etched images in these smartly realized songs.
The Washington Post.
Now we have the follow-up studio album to her acclaimed Stranger To This Land to satisfy our insatiable appetites. Notion is a wonderful collection of songs that is brimming with stellar musicianship. Songs like 'That Hurricane,' 'Sister Mary Madeline,' 'Big Sky' and the title track are simply brilliant.The Album Network
It's not the hooks, the Froom-like production, or even the songs that make this album one of the best by any contemporary singer/songwriter in years. What puts her over the top is her voice, a smoothly subtle and sometimes jazzy, versatile soprano full of surprises. The Boston Phoenix
Barbara Kessler
On her pop-catchy, folk-smart new CD, she wanders between intimate reflection and wry, girlish reminiscence, sung in an airy voice brimming with personality. The Boston Globe
Her soulful voice merges with her guitar to form the most achingly beautiful acoustic music around. The Worcester Phoenix, MA.
What You Keep
After taking a decade-long hiatus from record-making and touring to focus on her family, she's back with 10 gems wrapped in her exquisite voice and shining with the joy that comes from aging, acceptance and boatloads of gratitude.